on Story from the North
Story from the North, 2013, Taiwan
來自北國的故事, 2013, 台灣
Photo : Winston Teng
照片 : 鄧文淵老師
Poem : Lee Mei Ling
詩句 : 李美琳
The poem below was my lyrical response to Story from the North. It was a photo exhibition by Winston Teng who some 20 years ago came upon and was mesmerized by a book on cranes in Hokkaido, finally made a trip there during its coldest winter month to take pictures of the migrating birds. Both the photographs and poem were exhibited together at Ogawa cafe for two months in June and July, 2013.
My Nikon camera firmly in
my double gloved hands,
long before dawn breaks,
I step out into a world
of one color,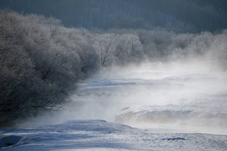 extreme cold,
the sound of wind.
The determined thick flurry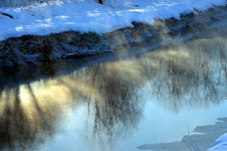 drowns my breath
covers my steps.
My crazed resolve
for my rendezvous
succumbs not to the winter harsh.
By the bridge I stop,
A thick carpet of snow
My feet sink into,
I wait.
Curiously you may ask,
"In cold this severe
this hour
for what do you wait?"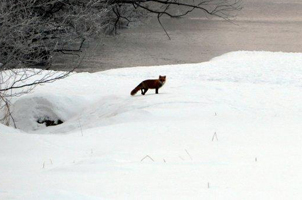 Pensive, I answer,
"My guests-of-honor."
"Is it a fox?"
"Is it a swan?"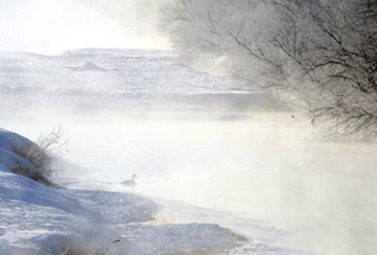 you persist.
To your questions
I answer with a simple "None."
In the distant horizon
tiny specks came within sight.
My pulse quickens.
My alertness heightens.
Specks in the sky
draw out in lines.
Suddenly,
overhead, huge silhouettes,
Sound of a honking fills the air.
Legs outstretched,
Wings beating,
Cranes land in multiple pairs.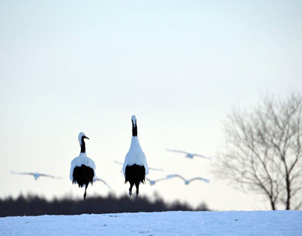 Purposefully each pair begins to dance.
Calling in unison
Steps in synchrony
with bows, dips and leaps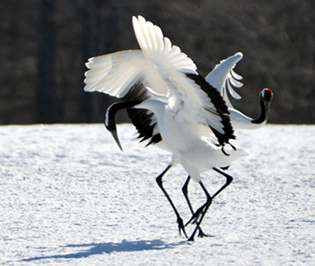 a ritual so rich.
With gesture in poetry
they flaunt their love
for each other.
A dance so sublime.
An ode to their mate-for-life
The cranes so effortlessly keep alive,
A commitment mankind
finds hard to live by.
For if love is questioned,
itself holds the answer.
While ceaselessly
shutter clicks,
I contemplate,
am awed
and mesmerized.
As they sing their last refrain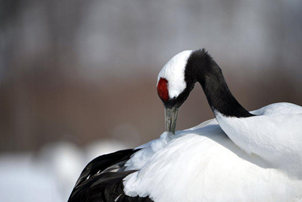 so the dancers shall exit.
Blessed am I to have glimpsed
the lovers' wintry bliss.
I cherish the final moment before
emotionally to my guests
I say goodbye.
A fine moment it has been,
a lasting memory it will be.
"So," you ask, "How was your date?"
In rhapsody, I reply,
"For this meeting
20 years I have waited.
I feel like a child
endowed
with an endless stream
of immortal grace!"
On my face, a contented smile.
June,2013
copyright of Lee Mei Ling
我戴著兩層手套
牢牢地握著Nikon相機
天還沒翻魚肚白
我就踏进了一個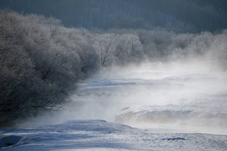 白茫茫
寒風瑟瑟
冷冰冰
的境界
濃濃的白雪紛飛
令我窒息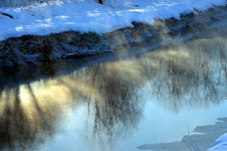 也隱蔽了我的腳印
但æˆ'é'"是帶è'—å …å®šçš"決心
不被嚴酷寒冷屈服地
去赴約
我在音羽橋止步
雙脚陷入
厚厚的積雪裡
等待著
好奇çš"ä½ æœƒå•ï¼š
"在這嚴寒、這时刻,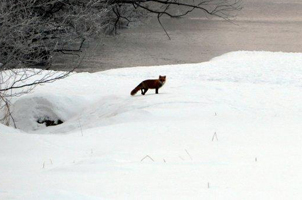 您在等待什么?"
我若有所思地回答:
"我尊貴的客人"。
"é'£æ˜¯ç‹ç‹¸å—Žï¼Ÿé'"æ˜¯å¤©éµï¼Ÿâ€ä½ è¿½å•ã€'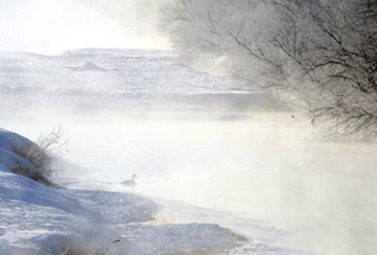 我簡單地答:
"都不是。"
åœ¨é è™•çš"地平線上
浮現微小的斑點
æˆ'çš"è"ˆæåŠ å¿«
æˆ'çš"è­¦è¦ºæ€§åŠ åŠ‡
斑點在天空中畫成線
逐漸延長
突ç"¶ï¼Œé ­é 'æŽ éŽå·¨å½±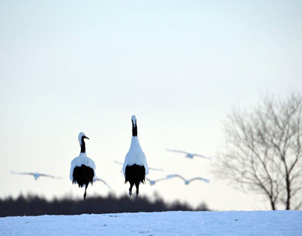 鳴聲瀰漫凌空
伸著腿、拍打著翅膀
仙鶴成雙成對着地
ç‰ å€'似乎有æ"è€Œä¾†ï¼Œä¸€å°å°ç¿©ç¿©èµ·èˆž
ç‰ å€'齊歌齊舞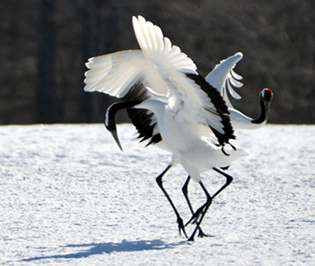 éž èº¬ã€é¨°ç©ºã€è½åœ°
å®›å¦'ä¸€å ´ç››éº—çš"å"€å¼
以如诗般的舞步
向對方
宣揚自己的愛
舞出了终身伴侣的崇高
ç‰ å€'一夫一妻

如此毫不費力的廝守
在人類的世界裡
卻是個难保çš"èª è«¾
如果愛有問題
那它也是問題的答案
不停地按下快門
我被迷住了
也感到敬畏
ç‰ å€'çš"歌誦劃下了ä¼'止符
舞者也即將離去
感恩
å› ç'ºæˆ'窺見了情侶çš"冬戀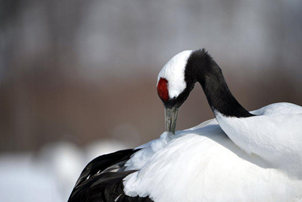 恭敬地
依依不捨地
我向尊贵的客人道別
珍惜最後這一刻
也在我心坎中
刻下永恆的記憶
å¦'æžœä½ å•ï¼š
"您的約會如何?"
充滿喜悅的我會這樣回答:
"這是我等了20年的約會啊。"
"我覺得自己像个孩子
上蒼賦予了我
恩典不朽的泉源。"
此刻我臉上掛著
幸福滿足的笑容
六月,台灣 民國102年
版權作者李美琳