In Memorial
IN MEMORIAL By Maryam Shaistah
It's not often an artist trades on grief arising from the loss of a parent into a work of art. But Lee Mei Ling has done it. The Singaporean installation artist recently presented Wintry Blossom, the final piece in a series of three works dedicated to her late mother. Held at Ngee Ann City from February 15 to March 15, 2006, the exhibition provided a platform for Lee to come to terms with her loss.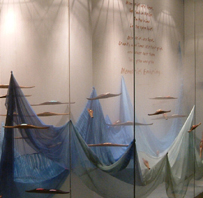 Vessels of Enduring Memories, the first work in the series, was created in February last year, three months after her mother passed away. Encased in a show glass, mini-wooden boats filled with sago seeds were suspended in a sea of blue and white cloth, with a poem setting upon the "horizon". It was an immediate response to her loss. In an email interview, Lee remarked of this work: "I started to contemplate life but also many a time, pondered about death…Although my mother and I exist in different realms, my love and memories for her defied the natural law of time of never fading away or being forgotten.""This was why the changing but circular nature of the seasons became a metaphor in the works. The seasons took on new and different meanings and feelings,"said the Bachelor of Fine Arts graduate from the University of Michigan, U.S.A. "Seasons, which metaphorically are about time and life passing, are a universal language people could relate to and there are certainly lessons we could learn from the 'philosophies' of the seasons".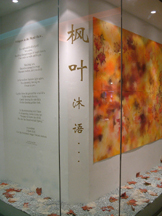 The second work in the series, Whispers in the Maple Rain, was displayed between October and November last year. This was significant, as Lee explained: "My mom was born in October and autumn had always been her favorite season. She also passed away in autumn. The installation covered two adjacent walls; a poem on one and a painting on another, with autumn-colored leaves scattered on the gravel floor." Reflecting on this work, she commented: "It's sad yet poetic at the same time. In autumn, when nature begins to mellow, it 'teaches' and 'reminds' us to take time out from our busy urban lifestyle to contemplate and remember, which is a process I find both cathartic and healing." Which brings Lee to the idea of healing in the third work, Wintry Blossom which incorporates images of the sakura flower. "Sakura is a symbol of life;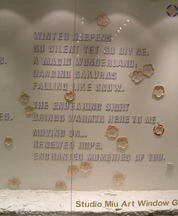 after enduring the cold of winter, a new life comes into being with the nurturing warmth of the spring sun. In my last installation, the blooming of sakura took place in a deep winter thus representing the new-found hope and belief that my mother was in a Heaven wonderland." Although the works were put up to remember her late mother, it is essentially about love, learning to treasure our lives and time as well as our loved ones. "It would be fabulous if viewers resonate with the installations on different (intended) layers of meaning," she elaborated. As a parting shot, Lee advised: "It is only through time-out that one develops wisdom instead of depending on others for truth.
Maryam Shaistah is a second-year student under the BA (Hons) Arts Management programme at LASALLE~SIA College of the Arts, 2006-23-03